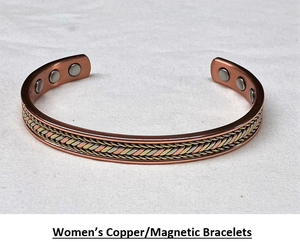 Copper/Magnetic Bracelet (Small/Women's)
The Crothers Way is now offering a Copper/Magnetic Bracelet just for you. These bracelets are Small in size, typical of a woman's bracelet. The bracelet offers you the same relief your horse receives with The Magical Therapeutic Horse Halter. 
Copper/Magnetic Bracelets are thought to:

Reduce aches, pains, and joint stiffness and relieve muscle spasms,

Reduce pain associated with arthritis,




Increase production of nitric oxide to support a healthy immune system,

Help your body to heal.

These Copper/Magnetic Bracelets are available in Small only.

Do NOT use magnetic therapy if you have a pacemaker, defibrillator, or any other implanted electro-medical device, or if you are pregnant. 

FREE Shipping in U.S.