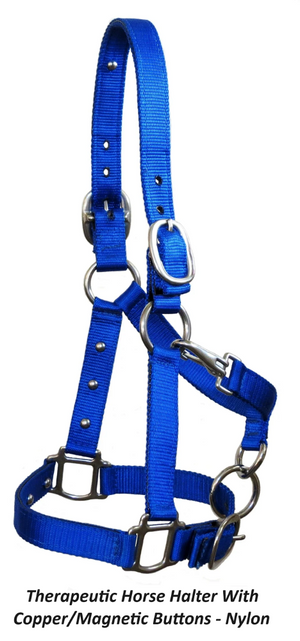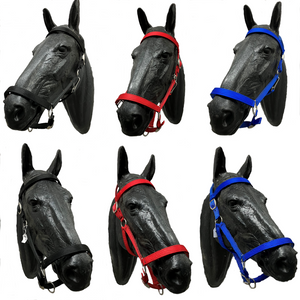 The Therapeutic Horse Halter with Copper/ Magnetic Buttons - Nylon
When a Normal Halter Just Isn't Getting it Done!
You are trying to halter-break your horse, or you have a horse that just won't respond to your commands when leading.  You have been pushed, pulled, stepped on, run into the wall, and almost injured by the horse rearing up.  You are considering using something severe like a lip chain before you or your animal gets hurt.  Are you ready to give yourself a fighting chance, rather than doing something that is going to damage the relationship you have with your horse?
The Therapeutic Horse Halter With Copper/Magnetic Buttons (formerly The Ultimate Halter) is a halter, the likes of which the equine world has never seen.  This halter will give you more control of your horse and will also help in dealing with problems like backing, bolting, trailer loading, not responding to commands, and being disrespectful.  You can even ride in this halter!
The secret to the halter's success is the patented communication buttons located over the poll, over the bridge of the nose, and along the upper jaw line on both sides.  The placement of these communications buttons is what allows the halter to give you full control over the horse's head.
The communication buttons over the poll encourage forward motion, along with providing you the ability to stop your horse from running backwards.
The communications buttons along both right and left upper jaw line encourage right and left motion.

The communication buttons over the bridge of the nose stop the horse from being able to run past you, and also encourage backward motion.
The halter's patented copper and magnetic communication buttons are also thought to:
Increase the production of nitric oxide to support a healthy immune system,
Reduce aches, pains and joint stiffness and relieve muscle spasms,
Reduce pain associated with arthritis,
Reduce stress and anxiety to create a calming effect,
Increase focus and awareness.
You don't have to be a trainer to use The Therapeutic Horse Halter With Copper/Magnetic Buttons.  This halter will help anyone trying to get control of their horse.  The halter would also help you make a good presentation with your horse in the sales ring by keeping your horse calm and collected.
WATCH the video below and you'll be SOLD!

Available in 3 colors: Red, Blue, Black
30-Day Money Back Guarantee.
"The Therapeutic Horse Halter is remarkably effective as a training aid in horses of all ages."
Robert J. Hunt DVM, MS, DACVS 
Hagyard Equine Medical Institute 
Lexington, Kentucky

Ed Demonstrates Using The Therapeutic Horse Halter