Philosophy
Ed Crothers, the Equine Analyst, will teach you how to recognize pain in your horse.
Being "Pain Free" is a totally new concept for you and your horse.
No gimmicks, no tricks, no special tack and no expensive equipment needed. Ed Crothers, the Equine Analyst, will teach you how to recognize pain in your horse. With over 25 years of correcting and rehabilitating, Ed strives every day to help all horses become strong and well rounded once again. From the knowledge he has gained over the years, Ed can knowingly say that 90% of disrespect is pain, and that there is no such thing as a bad horse. Disrespect is always caused by pain or lack of communication in training. Horses don't go bad overnight. They are trying to tell us something is wrong.
My school horses LOVE Ed Crothers. His quiet, kind, confident way sets them immediately at ease and they arrive at their next lesson feeling and moving as if they were 10 years younger - my students always comment on how loose the horses feel after Ed has been out to the barn."  
-- Jessy W., Director of Greenacres Equine Center
The Magic Behind The Equine Problem Chart
Over the past 30 years, the same problem has been brought to the attention of Ed Crothers. A well trained horse and wonderful riding partner that has developed a disrespectful relationship. This is what Ed calls "The Good Horse Gone Bad". Using years of starting and training experience, combined with working hand-in-hand with veterinarians and chiropractic care, Ed has come up with the true reason that a good horse goes bad. These ground breaking methods to horsemanship show the affects of short or long term chronic pain on a horse's attitude and performance. Ed's knowledge of horses stems back to his childhood, and has grown throughout the years with his work on many of Ohio's top thoroughbred farms. It was not until 2000 that Ed started looking for the cause behind the disrespect. These are the factors that made Ed start looking at horses in a different light.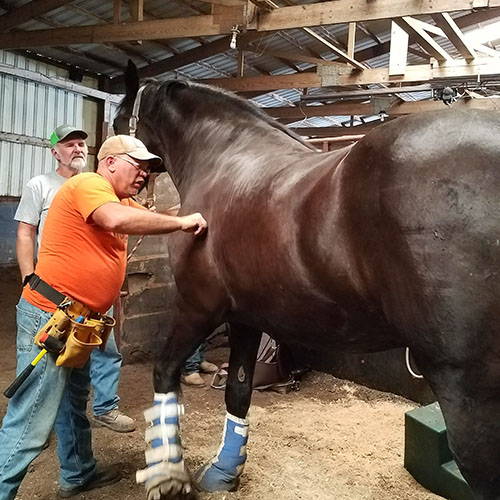 From 2000 to 2003, Ed watched and noted every horse he worked with, and over that three year span Ed analyzed over 500 horses. Through his study, Ed would look over every vet work up chart and chiropractic chart. He noticed that many horses that acted with the same level of disrespect also suffered from the same level of pain issues. From his study of these horses, and the horses he still works with every day, he is able to quickly look over a horse and add together all the past information he has seen with with horses with the same disrespect. This enables him to find the cause of the pain/disrepect so that he can fix the problem. Ed has found that when a horse has a pain issue, the first step is to fix the pain. He can then retrain the horse's mind to know that the pain is no longer and issue.
Ed Crothers' Pain Free Horse Program starts with first identifying the pain area (or areas), and then finding the best way to address the pain. After the pain is managed, Ed then moves to retraining the horse's mind to show them that the pain is no longer stopping or holding them back from performing certain tasks. This step can take a few hours to a few days, depending on how large the mental pain is. Many horses develop bad behavior as a way to move away from, or avoid, painful conditions. By addressing the painful issues many horses lose their bad habits once their mind has been retrained to realize the pain is no longer there.
With the use of the Equine Problem Chart, Ed is able to analyze your horse's problems and give you the best approach to correcting the problem. If you would like to learn more, Check out the 3 disc DVD set of "Good Horse Gone Bad" by The Crothers Way. Learn to evaluate why your horse misbehaves, and learn what you should and should not do to get them riding. Watch Ed, along with a veterinarian and chiropractor evaluate and help three problem horses.
I was your late night visitor a couple of Saturdays ago with my barrel horse, Jet. You had told me that Jet was in pretty bad shape and that he would feel like a new horse after you adjusted him. Well...You were right. My first run was a 17.048 which was a pretty good time for me. A little faster than what I had been running. Then my second run, he ran a 16.853. I was pretty excited about that. Then my final run was a 16.369! What a ride! You were right about him finding out that he wasn't in pain anymore and that he would get better after a few runs. Wow! I just wanted to thank you for fixing my guy. I truly appreciate it."  
-- Renee J.